Shipping & Returns
Due to recent laws and regulations placed on us by the FDA, we are only able to ship items within our state of Wisconsin.
Orders for in-stock items will primarily ship the day of the order if placed before 3:00pm Central Time Monday-Friday. Orders placed after 3:00pm Central time may not be processed until the next business day. Orders placed on Saturday and Sunday until the following Monday. 
A tracking number will be emailed to you at time of shipment. If you do not receive this, please let us know.
Standard shipping arrives generally 1-5 business days after placing and submitting payment for the order.
Return Policy
VapinUSA truly appreciates your decision to purchase your vaping products and supplies from us. We strive to sell only the highest quality products in order to minimize the possibility of you experiencing any problems with our products. VapinUSA offers limited warranties on most products we sell, as described below. We'll gladly assist you with any problems that you encounter while using our products.
Warranties:
Batteries, chargers, and devices have a 30 Day Limited Warranty, guaranteed against product defects from the manufacturer.
Tanks and atomizers have a 7 Day Limited Warranty, guaranteed against product defects from the manufacturer.
Returns are only accepted within 30 days of purchase and must be sealed or unused. For product service, repair, or replacement, please email or call our staff to examine and diagnose your problem. If your device cannot be repaired, and the device is found to have a manufacturer's defect, it will be exchanged at no cost.
Warranties Are Void Under The Following Conditions:
Use of any unauthorized tools, modifications, or repairs by anyone other than employees of VapinUSA.
Any product, E-Liquid, charger, or device that was not sold at VapinUSA.
Damage caused by exposing batteries to water, extreme heat or cold.
Damage caused by misuse or mistreatment of products.
Damage caused by incorrect use, transporting and storing products, or caused by accident (Be cautious when carrying a device in pockets, purses, bags, and jackets without a suitable carrying case.)
Items NOT Available For Exchange or Return:
All consumables – such as E-Liquids, disposable pieces, disposable vapes, pre-filled pods/cartridges, and tips.
Used wicks and cartomizers, unless a manufacturer's product defect exists.
Disclaimers:
Do not ingest E-Liquids, and keep them out of reach of children and pets.
Store E-liquids in a cool, dark place, and out of direct sunlight. Keep them out of extreme heat and cold temperatures.
The shelf life of E-Liquids is approximately one year
VapinUSA products are designed for use with electronic cigarette liquid only
Not permitted to be distributed to minors
Certain flavor concentrates that are high in acidity have been known to damage polycarbonate tanks and are best used in pyrex/glass tanks. These include cinnamon, lemonade, apricot, etc. Ask a sales associate if you are unsure if your flavor applies.
All E-Liquids are non-refundable unless the incorrect item was received. If the quality or taste is different we may be able to replace them on a case to case basis.  
Please let us know if there are any questions on our warranty policy.
Find Us
Check our stores on a map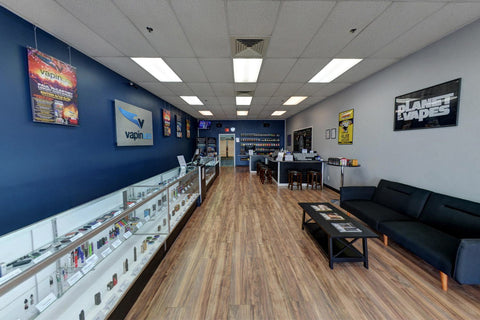 1025 Mutual Way
Appleton, WI 54913
(920) 815-3749
Store Hours
Mon-Sat: 9am - 8pm
Sun: 10am - 5pm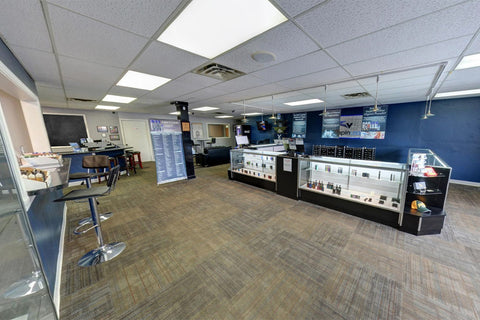 2255 S. Oneida St.
Green Bay, WI 54304
(920) 405-0505
Store Hours
Mon-Sat: 9am - 8pm
Sun: 10am - 5pm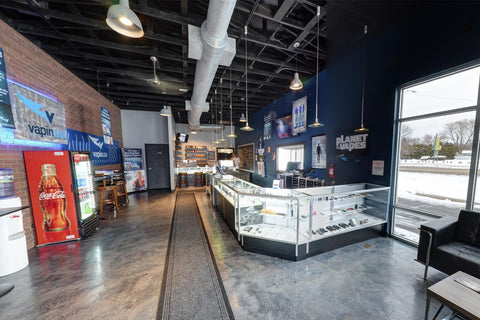 1960 Main St.
Green Bay, WI 54302
(920) 544-0397
Store Hours
Mon-Sat: 9am - 8pm
Sun: 10am - 5pm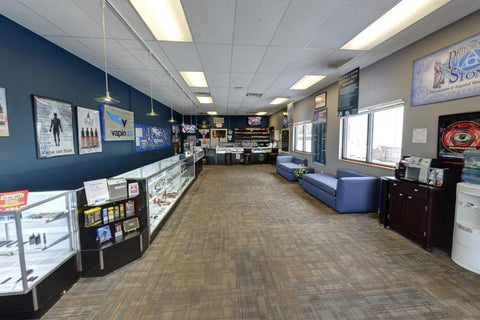 2003 Marinette Ave.
Marinette, WI 54143
(715) 330-5538
Store Hours
Mon-Sat: 9am - 8pm
Sun: 10am - 5pm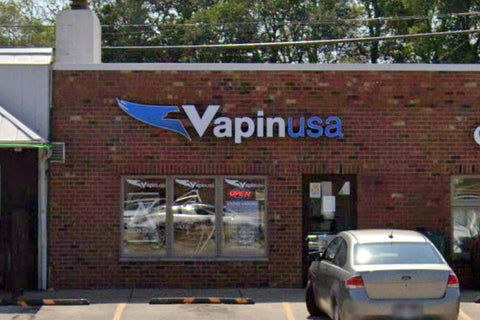 257 E Hampton Rd.
Milwaukee, WI 53217
(414) 539-3527
Store Hours
Mon-Thurs: 10am - 8pm
Fri-Sat: 10am - 10pm
Sun: 10am - 5pm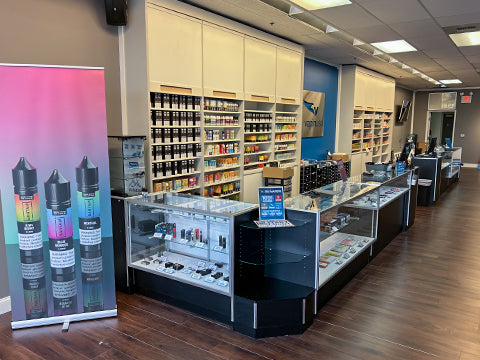 681 South Green Bay Rd.
Neenah, WI 54956
(920) 215-3188
Store Hours
Mon-Sat: 9am - 8pm
Sun: 10am - 5pm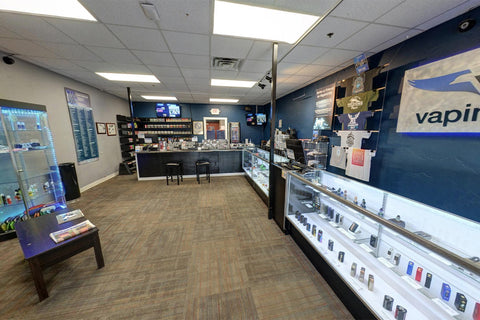 2629 Calumet Dr.
Sheboygan, WI 53083
(920) 783-6222
Store Hours
Mon-Sat: 9am - 8pm
Sun: 10am - 5pm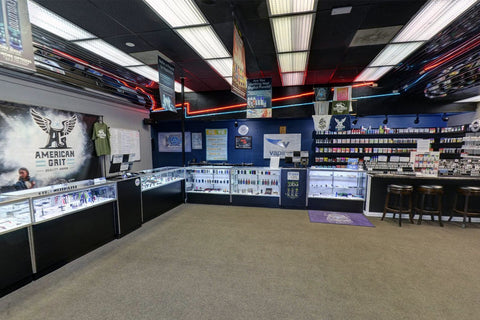 2123 S. Business Dr.
Sheboygan, WI 53081
(920) 783-6559
Store Hours
Mon-Sat: 9am - 8pm
Sun: 10am - 5pm